Exfoliating Socks
We put our feet through a lot. They bear our weight every single day, and even if you're not a keen runner or sportsperson, they undergo a lot of wear and tear as we stand up and walk around. So it's not surprising that foot issues such as hard skin and calluses are common complaints. Foot peel socks can be a simple and effective way to tackle these problems and achieve beautifully smooth feet.
This article goes into more detail about exfoliating socks, including how they work, what sort of symptoms they can help with, and how to use them. It also gives some top tips for getting the best results when using Footner feet peeling socks.
What are exfoliating socks?
In case you haven't come across them before, foot exfoliating socks such as Footner are essentially plastic socks filled with an innovative solution that can remove hard, dry and dead skin from your feet.
They're designed to be an easy alternative to using products such as pumice stones and foot scrapers, and peeling socks will actually remove this unwanted skin with just one application. You can buy Footner exfoliating socks in stores or online, for example, in the Boots foot peel socks section or the Superdrug foot peeling socks section.
After using hard skin remover socks, the dead skin on your feet will literally peel off to reveal super smooth, fresh skin underneath. You can either do this as a one-off treatment or use feet exfoliating socks every 2-3 months in order to keep your feet baby soft. They are suitable for both tackling tricky buildups of thick hard skin on your feet and simply ensuring your feet are perfect for sandal season. Not only are they effective, but DIY-exfoliating socks are also much cheaper than having a professional pedicure done!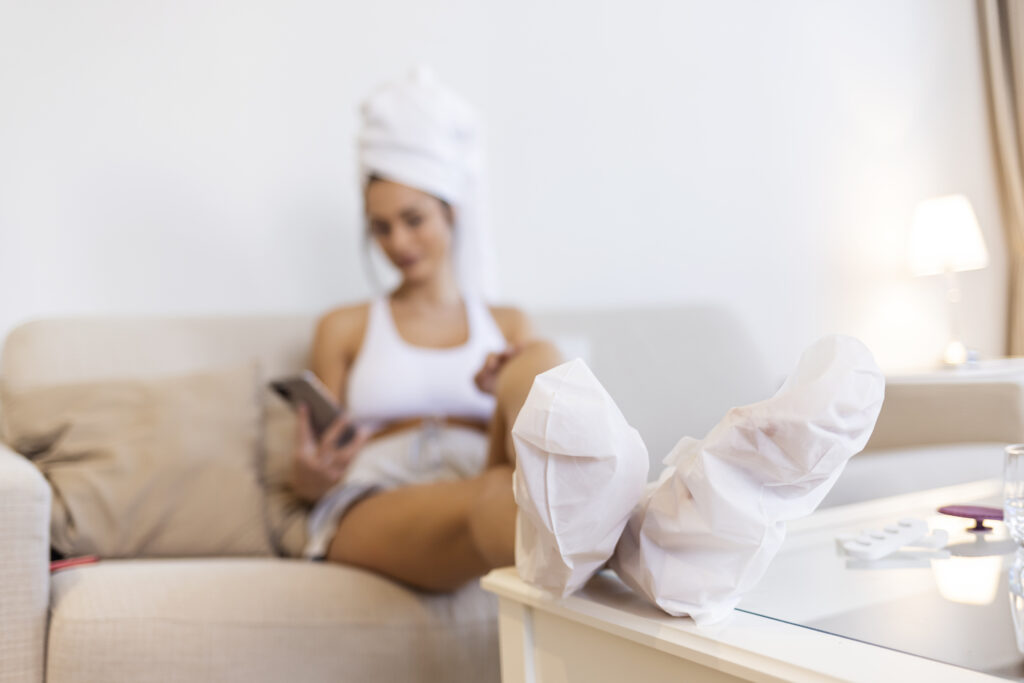 How foot peel socks work
So now you might be wondering exactly how do exfoliating socks work? Well, dry skin remover socks use a special formula to get rid of buildups of hard and dead skin on your feet. The solution that you soak your feet in contains chemical exfoliants such as alpha-hydroxy acids, beta-hydroxy acids, and hydrating glycerine.
One of the commonly used ingredients in skin peeling socks is glycolic acid, which penetrates into the skin and removes dead skin cells while encouraging new ones to grow. Foot skin remover socks also often contain lactic acid, which stays on the outer layers of the skin and loosens dead cells there while also adding additional moisture to the area.
The idea of putting acid on your feet might sound intimidating, but rest assured that glycolic socks are not in any way painful to use. Just check out some foot exfoliating socks reviews to see how simple yet effective they are!
Conditions foot peel socks can help with
The best exfoliating socks can improve the appearance of a wide variety of unsightly foot complaints. For example, foot and callus peel socks can help to remove dead skin, soften and get rid of hard skin, and also remove dry skin. In addition, this can result in an improvement in conditions such as heel cracks and fissures, plus calluses on your toes or other parts of the foot. One look at some foot peel socks before and after photos will show you how much better your feet will look once you've used them!
Getting rid of the dull, dead skin on your feet reveals super soft skin beneath, which is not only smoother in texture but also brighter in colour and appearance. This makes exfoliation feet peel socks a fantastic way to get your feet ready for hitting the beach or wearing sandals, even if you don't have a particular problem with hard or dead skin.
How to use foot peel socks
You'll be pleased to hear that doing a sock foot peel is very easy. It's important to follow the accompanying instructions for the specific type of exfoliating foot peel socks you use, as there may be slight differences in timing or what you need to do. However, to give you a better idea of what to expect, here's how to use Footner exfoliating socks:
Use scissors to cut along the indicated line in the plastic socks.
Put the socks on over your feet and close the top using the adhesive strap. For extra comfort, you can put a normal pair of socks on over the top.
Set a timer or alarm for 60 minutes, and wait as the solution inside works its magic
After the 60 minutes is up, take off the socks and wash your feet with warm water to remove any gel that might remain on your skin. Foot peel socks are one use only, so throw them away afterwards.
Then eagerly await the results! The peeling won't start immediately after using foot socks for hard skin, as it takes some time for the skin to go through the shedding process naturally.
How long does it take for foot socks to remove dead skin?
The exfoliating process will differ from person to person, depending on factors such as how much dead skin you had on your feet and how hard the skin was. As a general rule, you can expect peeling to start between 1 and 7 days after application and last until 10-14 days after using feet socks for dead skin.
The extent to which your feet peel after using socks for dead skin will also vary, again depending on how much dead and hard skin you had. It's important to resist the temptation to physically peel the skin off yourself, as this can damage the underlying skin if you pull off too much or peel it too early. Instead, you should let the process happen naturally.
In the vast majority of cases, one application of foot hard skin remover socks will be sufficient to leave your feet completely soft and smooth. However, in some instances where there is a very thick buildup of dead skin, even the best exfoliating socks will require a second treatment. Remember to leave at least 3 weeks between applications, as your skin will be sensitive during this period.
How long will the results from foot peel socks last?
The length of time that feet remain smooth after using socks that remove dead skin will depend on the person. You can anticipate enjoying at least a month of baby-soft skin, and gradually the hard skin will start to come back as you go about your daily life. As a rough guide, if you use the best foot peel socks, you'll probably want to repeat the process every 2 to 3 months in order to keep your feet looking their best.
How to get the best results from using foot peel socks
In addition to using the best exfoliating foot socks, there are certain steps you can take to ensure that you maximise the results you get from them. You need to soak your feet in warm water before using any foot peeling socks superdrug or other shops sell and then soak your feet in warm water in the days after using your foot peel socks.
Do not try and forcefully peel off any skin from your feet when you notice it starts shedding – let it happen naturally.
During the peeling process, you will also want to avoid moisturising your feet, even though the skin might seem dry, but in order to keep your skin soft and smooth for as long as possible after the peeling is over, moisturising them every day is essential. After the peeling process has finished, you can use a foot scrub to make sure all the dead skin has come off.
It is important to note that your skin will be more sensitive for the first 3 weeks after using the foot peel socks Boots and other stores offer, so keep them out of the sun during this time. Make sure you avoid walking around outside barefoot, as this will encourage the skin on the soles of your feet to thicken as a way to protect itself.
To ensure you absolutely do get the best results, make sure to:
Drink 6 to 8 glasses of water a day to keep the skin all over your body soft and hydrated.
Wear shoes that are comfortable, supportive, and fit well. This will reduce friction and prevent hard skin from building up on your feet.
Wear soft, breathable, and moisture-wicking socks.
Stay active to encourage good circulation all over your body.
If you are a keen runner or hiker, take extra good care of your feet!
Do foot peel socks work?

Yes! All you have to do is look at exfoliating socks before and after photos to see what an improvement they can make to your feet. All the skin that you see peel off from your feet when you use them is proof that they are working. As long as you use them properly, you're sure to notice the difference.
Are foot peels good for your feet?

Yes, if you use the best foot exfoliating socks, you will find that they don't just make your skin look better – they are also good for your feet. This is because buildups of hard and dead skin on your feet can cause problems if left untreated. For example, in the most serious cases, they can be painful, make it harder to walk, or become infected. Using Footner or fit foot exfoliating socks on a regular basis will help to prevent such issues from occurring and keep your feet happy and healthy.
How can I speed up the peeling of my feet?

When using your chosen foot exfoliating socks Superdrug sells, the speed at which your feet peel will depend on factors such as how much dead and dry skin you have and how thick and hard the buildup is. However, you can speed up the process by soaking your feet in warm water before using the best exfoliating socks for feet. Doing the same thing in the days following application will also make it quicker, but don't be tempted to peel the skin off manually – it's important to let it happen naturally.
What happens if you leave a foot peel on too long?

If you leave products, such as cosset exfoliating socks, on for too long, it can cause damage to the skin or even provoke an allergic reaction. As such, it's important to never wear them for longer than the recommended time limit and to always wash off any remaining solution afterwards.
Are foot peel socks suitable for everyone?

Foot peel socks such as Footer and the olive exfoliating foot pack are suitable for the vast majority of people. However, you shouldn't use them if you are pregnant, diabetic, or suffer from a skin condition such as eczema. If you are in any doubt about whether or not you should use exfoliating socks, consult your doctor first.